Jamestown Schools Holding Facility Needs Discussions in March
Posted by KSJB News on 3/14/2017 5:00:00 AM.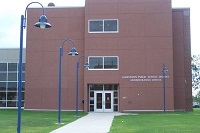 JAMESTOWN, ND (Amy Neustel)– Jamestown Public Schools (JPS) is examining the role its facilities play in educating students for 21
st
century careers – many of which do not even exist yet. Many systems in JPS buildings are nearing the end of their life, and it is necessary to consider the best options for repair or replacement. Community input in this examination has been critical and will be further sought in the coming weeks, including through listening forums, focus groups, and general comments.
More
---
Corps Says Protest Campsite has been Cleared
Posted by KSJB News on 3/13/2017 2:48:00 PM.
BISMARCK, N.D. (AP) — The Army Corps of Engineers has finished cleaning up three Dakota Access pipeline protest camps that were on federal land in North Dakota.
More
---
Expedia Website Calls Valley City Most Beautiful in the State
Posted by KSJB News on 3/10/2017 5:13:00 AM.
UNDATED - The travel website Expedia has named Valley City the most beautiful city in North Dakota.
More
---
Police Warn of High Risk Sex Offender
Posted by KSJB News on 3/9/2017 11:37:00 AM.
John Michael Fleener
JAMESTOWN - Jamestown Police are warning residents of a convicted high risk sex offender who has moved into the community.
---
Calendar Day Designated to Honor Farm Rescue Volunteers
Posted by KSJB News on 3/8/2017 12:14:00 PM.
HORACE, N.D. (Dan Erdmann) - Farm Rescue, a nonprofit organization that provides planting, harvesting or haying assistance free of charge to farm and ranch families who have experienced a major illness, injury or natural disaster, has received an annual day of recognition by National Day Calendar, an organization that tracks nearly 1,500 National Days throughout the year.
More
---
Previous Entry
Next Entry