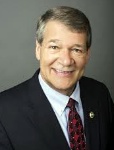 DEVILS LAKE, N.D. (AP) - Attorney General Wayne Stenehjem says the Devils Lake City Commission violated the state's open meeting laws when it met secretly to discuss a report on the city's police chief and his top captain.
The Commission last month placed Chief Keith Schroeder and Capt. Jon Barnett on paid administrative leave until officials can decide their future. They were suspended after a city assessment found low morale and reports of a hostile work environment at the police department.
Stenehjem says the report discussed during the April 3 closed meeting is public under the state's open meeting laws.
Stenehjem's order says the commission must release the audio or a transcript of the executive session.