Officials Announce "Mary's Place", a Domestic Abuse Shelter
Posted by KSJB News on 12/1/2016 12:30:00 PM.
JAMESTOWN - Safe Shelter of Jamestown, in cooperation with the Anne Carlsen Center of Jamestown, announced a new project to provide short-term housing for victims of domestic and sexual violence.
---
High Risk Sex Offender Changes Address in Jamestown
Posted by KSJB News on 11/30/2016 8:00:00 PM.
Michael Philip Kruk
JAMESTOWN - Jamestown Police are warning residents of a convicted high risk sex offender who has changed his address within the city.
---
James River Valley Library System Presents Annual Mitten Tree
Posted by KSJB News on 11/30/2016 9:08:00 AM.
JAMESTOWN – (Jennifer Senger, Assistant Director) - It's the time of year again when the weather turns cold and we need to dig our hats, mittens, scarves and other warm clothes out of storage. To help those who may not have those necessary items during this cold weather season, the James River Valley Library System has placed a Mitten Tree in the Adult Section of the Alfred Dickey Library.
More
---
Governor Calls Up Jamestown Guard Unit and Orders Evacuation of Protest Area
Posted by KSJB News on 11/28/2016 2:54:00 PM.
BISMARCK, ND - A statement from Gov. Jack Dalrymple's office says members of the Jamestown-based 817th Engineering Company (Sappers) have been called to serve at the Dakota Access oil pipeline protests. The unit was notified of activation in September.
More
---
Ready-to-Eat Chicken Recall
Posted by KSJB News on 11/28/2016 11:48:00 AM.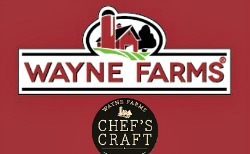 WASHINGTON - The U.S. Department of Agriculture's Food Safety and Inspection Services says Wayne Farms of Oakwood, Georgia, has voluntarily recalled about 4,059 pounds of ready-to-eat chicken products that may be undercooked.
---
Next Entry